Thank you for your interest in joining me on Second Breaks.
A few things you need to know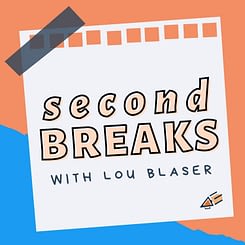 Second Breaks is a show for mid-lifers — Gen X, Generation Jones, Late Boomers. We explore stories and topics that help mid-lifers continue to grow and thrive at work and in life.
Note: You need not be a mid-lifer to be on the show. We just need to make sure that the topic of our discussion will be relevant to our primary listeners.
Second Breaks IS NOT a business podcast for entrepreneurs, although we talk about business when it fits the editorial calendar.
Speaking of our editorial calendar, SB is a seasonal podcast. Each series explores one theme/topic at a time.
Topics of Interest
We are currently planning for the editorial calendar for Season 8, which will air in 2022. Here are the broad categories we're looking to explore.
Unretirement

Starting a new career or business in midlife (i.e., past 45 years old)
Staying in one's career past retirement age
Midlife Reinventions

Stories about mid-lifers making a significant life change in midlife. May or may not be related to work. For example: changes in lifestyle, finding a new relationship, significant change in mindset, making healthy changes in diet, exercise, etc.
Stories of "messy" or challenging pivots and reinventions and how those challenges were overcome
If you've got relevant expertise or a related personal story, please click the button below to complete a brief questionnaire. Please make sure your responses clearly point to at least one of the areas listed above. 
Once we have a potential story in mind, we can see how you might fit into the editorial calendar.
Cheers,
Lou Blaser, Host